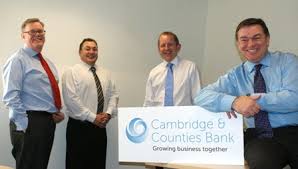 What is it?
A very real outcome of the economic situation since 2008 has been the reduction in the amount of money being made available to individuals and small businesses by the traditional banks. As mainstream provision tightens many councils are looking at alternatives to serve their communities and boost their local economies. A report by the New Local Government Network in 2010 found that 70% of council leaders are now interested in playing a bigger role in banking.
Who's doing it?
Cambridgeshire: Using pension funds to set up a bank to support local SMEs
Cambridge and Counties Bank was opened in the summer of 2012 and is jointly owned by Cambridgeshire local government pension fund and Trinity Hall, a college of the University of Cambridge. Its aim is to serve firms that have been rejected by mainstream banks, particularly those in the regions of Cambridgeshire, Leicestershire and Northamptonshire. Speaking to New Start magazine in 2012, Gary Wilkinson, the bank's then chief executive, said that the bank offers a blueprint for other council pension funds looking for ways to maximise their returns – and their local economic impact. At the time the Pensions Bank was looking for a buyer and Cambridgeshire council and Trinity Hall – who had been in conversation about setting up a local bank to support SMEs – decided to turn it into a bank fit for their purposes. While the bank can't lend to the local council, it is aligned to its priorities by supporting the huge number of SMEs now turned down by mainstream banks.
Warrington council: Investing in a joint venture bank
Warrington council approved plans to invest £30m – a 33% stake – to help create a joint venture – Redwood Bank – in January 2017. The bank has received a banking licence following approval from the Financial Conduct Authority and the Prudential Regulation Authority, and is expected to launch in summer 2017.
Share this post: