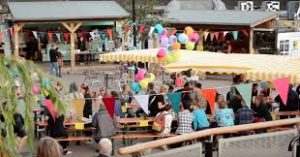 What is it?
Venture philanthropy is similar to traditional venture funding but the investment goes towards helping the start-up and growth of ventures with social aims and objectives. Social impact investment is investment that is aimed at improving social or environmental outcomes in a way that generates a financial return.
Who's doing it?
Northamptonshire: Accessing support to set up a social training company
UnLtd are essentially venture philanthropists with a mission to unleash the energies of enterprising people wanting to deliver positive social change. They provide support both in terms of mentoring and cash to help community projects start or scale their operations through their different competitive award programmes.
In 2013, Goodwill Solutions, a community interest company working with disadvantaged people across Northamptonshire to get them training in the logistics sector and ultimately into employment, took part in UnLtd's Big Venture Challenge programme. As part of this programme they received 12 months of intensive support from UnLtd to get their venture ready for growth and to help them scale up their positive social impacts.
Since this intervention, Goodwill Solutions has supported more than 400 people through its programmes, resulting in more than 300 moving into paid employment, and they have also been listed in the Financial Times top 1000 fastest-growing European companies in terms of revenue between 2012 and 2015.
Resonance: Supporting social enterprise in Bristol
Resonance is a social impact investment company that specialises in helping social enterprises raise capital from like-minded investors with a view to delivering financial return and targeted social impact.
In December 2016, Resonance arranged an investment of £112,000 in Bearpit Bristol (a CIC) through their Social Impact Tax Relief (SITR) fund. The SITR fund is a unique way to allow investors to invest tax-free in projects that achieve a positive social impact. The investment made in Bearpit Bristol CIC allowed three food-based social enterprises to join together and move into one bigger centralised kitchen space, extend their opening hours and expand into catering to drive additional turnover and secure the future of the CIC.
The investment has allowed Bearpit Bristol CIC to continue its aim of regenerating the St James roundabout area by operating three food and beverage businesses from one kitchen in the space, making it attractive and welcoming, and generating income for their community aims. The three businesses provide income to support markets, events, and workshops in the St James roundabout area to enhance the space, make links with the community and businesses, and inspire local people to care about the space.
Share this post: