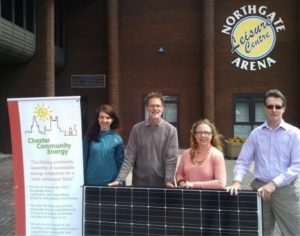 What is it?
A community energy scheme is a locally-owned and driven project to save, buy, manage or generate energy. These schemes are a unique way to draw a community together through a shared interest in saving money on their utility bills and/or earning money for their community through the rewards available for generating energy.
There are several guides available to help get things. The Source is an index of help and advice from across the web. PlanLoCaL is a comprehensive video guide that runs through an introduction to available technologies, how to become legally recognised, get funding, navigate the planning system, manage your project and reinvest the profits generated into your community.
Who's doing it?
Chester: Installing solar panels on a leisure centre
Chester Community Energy started life in 2015 following a 'climate change awareness-raising event' hosted by Transition Chester (a group designed to support other community groups coming together to combat CO2 emissions). At the event, attendees made it clear they were keen to get involved in creating a community energy scheme in Chester. With the help and guidance of Transition Chester, 'Chester Community Energy' was created and began applying for grants, crowdfunding and issuing public share offers.
In addition to a grant from Decc's Urban Community Fund (now discontinued – though an alternative fund is available for rural communities), Chester Community Energy were able to set up their first installation at Chester's Northgate Arena leisure centre. The 50kW solar PV system is now generating energy for the leisure centre with any profits from the reduced rate put into a community fund for further investment in new projects and also providing interest payments to return to their members on their shares.
Share this post: