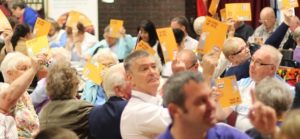 What is it?
Transferring housing to a mutual gives tenants and employees power and ownership over housing that was previously owned by the public sector. A representative body allows those living in and working for local housing organisations decide how the organisation is run.
Who's doing it?
Rochdale Boroughwide Housing: Giving employees and tenants control
Rochdale Boroughwide Housing is the UK's first tenant and employee co-owned mutual housing society, with over 13,500 homes throughout the local area. Previously part of Rochdale Council, RBH was established in 2012. It is driven by and accountable to tenants and employees – the members of the mutual. It is in itself a community. With over 600 employees, more than 15,800 tenants living in over 13,000 homes in 52 neighbourhoods, its scale of operations and activities, coupled with this ownership status, makes it a significant force for good, according to a report on the mutual written by the Centre for Local Economic Strategies.
Celebrating its fifth anniversary this year it has published a list of its achievements so far including on repairs, employment and skills and neighbourhood actions. Each of the 52 neighbourhoods within the RBH family have developed their own action plans under an Our Place programme, which has initiated many local projects including children's clubs, digital hubs and environmental improvement. Our Choice is a set of participatory budgeting events that has distributed over £100,000 to neighbourhood activities over three years.
The report 'RBH – Anchoring a Good Society' concludes: 'RBH is not your average social housing provider. Its mutual status and operational culture mean that it does things differently. It can and does harness financial, economic, social and human capital and assets for wider social and economic gain. This reflects a growing need across the country to create deeper and stronger connections and collaboration between providers, tenants, communities, other public sector providers and the local economy.'
Share this post: