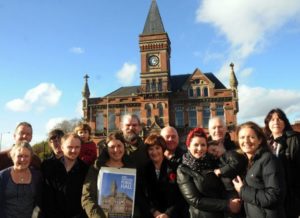 What is it?
A community asset transfer is the transfer of the management and/or ownership of a publicly-owned piece of land or building into the hands of a community organisation at less than market value to achieve local social, economic or environmental benefits. Depending on the length of the lease the legislation used can vary. The most common length of lease in community asset transfers is 20+ years (a long-term lease), this type of transfer takes place under Section 123 of the local government act 1972: general disposal consent 2003, which sets out the powers of disposal councils possess. To be eligible for a community asset transfer, communities must form a not-for-profit organisation such as a community interest company, a co-operative, a community land trust or a social enterprise.
Who's doing it?
Stretford: Re-opening a public hall as a community venue
In 2014 Stretford Public Hall became surplus to the requirements of the local council and it was looking as though the council was planning to dispose of it. Local residents registered the hall as an asset of community interest and set about fundraising and campaigning to restore the Grade II listed hall with a vision to transform it into a multi-purpose cultural venue owned and run by the community.
In 2015 Stretford Council committed to transferring the ownership of the hall to the Friends of Stretford Public Hall, which had converted from a limited business (previously running the hall) to a charitable community benefit society. The society took on the ownership and management of Stretford Public Hall with a commitment to run it for the benefit of the community.
To date, the society has restored major parts of the hall and is able to offer co-working space and space for artists at very competitive rates. Any profits generated are invested right back into the hall. The next phase of restoration will see the vast ballroom converted into a space for local businesses, community groups and activities, whilst bringing alive local heritage and promoting community cohesion.
Share this post: