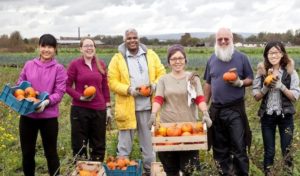 What is it?
Large-scale food suppliers have long dominated the wholesale market. This domination comes at the cost of high levels of food wastage, less-than-fresh produce and increased levels of competition for smaller local producers. In many parts of the country organisations are trying to break the grip of large-scale food procurement through the creation and stimulation of localised food markets.
Who's doing it?
Kindling Trust Manchester: Creating a virtuous food economy
Changing food procurement to tackle some of today's most pressing social, economic and environmental problems is at the heart of the Kindling Trust's vision. The Kindling Trust works to support local growers to connect with each other and potential wholesale customers, thereby supporting local businesses and improving the supply of fresh organic food to local people.
Share this post: