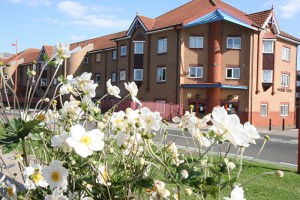 What is it?
Community-led housing (or resident-led housing) is housing that is developed by local people, to meet their specific housing needs. There are various ways communities can work together to meet local housing need: co-housing (for example at LILAC in Bramley), housing co-ops, or through a community land trust. These projects all aim to solve local problems by working for and with the local community to meet their housing needs.
Who's doing it?
Castle Vale: Taking on unscrupulous landlords through community-led housing
Castle Vale Community Housing Association (CVCHA) is a resident-led housing association that owns and manages almost 2500 homes on the Castle Vale estate in north-east Birmingham. In 2013 CVCHA partnered with Stockland Green Opportunities – Housing and Training (SGOHT), a community-led housing and training project, to tackle a shared concern in their community.
Both CVCHA and SGOHT were concerned that unscrupulous private landlords were buying up housing stock as it came on the market, carrying out poor quality conversions and letting them out at high rents to people on short-term tenancies. Residents and the two organisations felt that this was beginning to destabilise the local community and was doing nothing to improve the number of job opportunities in the area.
They decided to form a community-led housing organisation based in the area, which would compete with private landlords by buying up properties, improving them to a good standard and letting them at reasonable rents to people with a local connection. They also decided to look at how much of the renovation work might be undertaken by young people, as part of a training programme.
More information here.
Share this post: