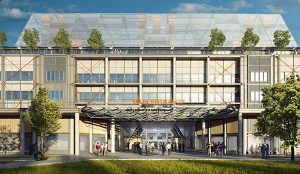 What is it?
EU procurement directives have three key themes around flexibility, positioning SMEs, and maximising social and environmental goals through procurement. Local government and other institutions can use their spending power to boost their local economies.
Who's doing it?
Manchester: Using procurement spend to build community wealth
Over the last ten years, Manchester council has been at the forefront of progressive procurement policy and practice. While they have considered cost, compliance and risk in their policies, processes and practices, they have also been more proactive around the wider linkages between procurement and the challenges facing the city in economic, social and environmental terms, and in their relationships with the potential and existing supply chain. They have also sought to ensure that wider commissioning processes are framed by these considerations.
Beginning in 2007 the council formulated a corporate procurement department, bringing the process of procurement into a single cross-departmental entity, and in 2008 it developed a sustainable procurement policy. In 2009 it undertook a study with the Centre for Local Economic Strategies (CLES) to understand the existing contribution of procurement spend to the Manchester economy and in 2010 The Power of Procurement report set out a number of recommendations as to how the council could maximize the benefit of procurement for Manchester and its residents. The council has been putting into practice these recommendations ever since, from linking procurement to the council's wider outcomes, including a reduction in worklessness, to embedding social value in tendering decisions.
Preston: Bringing local anchor institutions together
Inspired by successful experiments in economic democracy like Mondragon in Spain and Cleveland in the US, Preston council aims to harness procurement powers to develop a democratic local economy. Similar experiments have taken place in Manchester and Enfield, but what is unique about Preston is that it has managed to act in concert with other place-based institutions throughout Lancashire – including universities, colleges, hospitals and housing associations (often referred to as 'anchor' institutions).
Collectively, Preston Council estimates that Lancashire anchors spend an annual £1bn on goods and services every year. They aim to shift this wealth progressively to local businesses, and, where the local private sector cannot provide, to set up new worker-owned co-operatives to deliver these services. So far, a number of new democratic firms have been set up, including an artists' cooperative, an educational psychologists' cooperative, and an employee-owned transport consultancy with 25 employee owners. The local government has also established Guild Money as a city-wide credit union.
Midlands Metropolitan hospital: Using a new hospital to regenerate a local area
A new hospital on the border of Birmingham and Sandwell, due to open in 2018, is the test ground for how the building of a new key anchor institution can kickstart a collaborative approach to regeneration of place. The Sandwell and West Birmingham Hospitals NHS trust, with Sandwell council and a range of community organisations, came together to ensure that the construction of the hospital and its future spend boosted the local economy. A local multiplier analysis conducted by the Centre for Local Economic Strategies (CLES) showed that the total spend of the three hospitals in the local area was £150m and that for contracts worth over £100k, only around 15% was going back into the local Birmingham and Sandwell economies. The new hospital hopes to double that, through localising the supply chain of both the construction of the building and the procurement of its goods and services.
Read more on this story here.
Share this post: