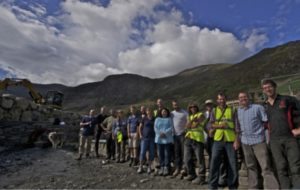 What is it?
As an alternative to shareholders who are focussed on a return on investment and generating increasing levels of profit, community benefit societies and co-operative societies can issue 'community shares'. These are different from traditional shares in that they cannot be transferred between people; the value of the shares are fixed and the amount of interest paid is only enough to attract investment. This protects the society's financial security and means that share prices are not subject to speculation.
Most of these societies are also subject to an asset lock, which prevents them from being sold on and the profits being distributed to shareholders, and thus removes any concerns around speculative investments. These societies are also democratic institutions so no matter the size of a person's shareholding, each community shareholder receives one vote on society issues.
Who's doing it?
Ynni Anafon: Using community shares to fund a hydro-electric plant
In 2010, Ynni Anafon Energy Cyf, a community benefit society created by local residents, embarked on a project to create and operate a hydro-electric generating plant in the small welsh village of Abergwyngregyn, using the force of the Anafon river and the guidance of the National Trust. The plant is expected to generate enough energy per year to power 230 homes and offset 19,000 tonnes of CO2 emissions over the next 40 years.
The project cost £1.25m to install; just under half a million pounds was raised through selling community shares for £50 each.
Now the plant is up and running, Ynni Anafon Energy is looking into how the energy generated by the hydro can be supplied to local homes, thereby reducing the cost of energy for local people. Any profits from the scheme will be invested in energy efficiency improvements to the local housing stock, which will make homes in Abergwyngregyn warmer and cheaper to run.
The team behind this successful project have begun to mentor other community energy projects in north Wales. They've teamed up with a few other groups doing similar things to create Cyd Ynni (Joint Energy), which aims to make it easier for those in surrounding areas to develop similar schemes by sharing knowledge and operational costs.
Share this post: