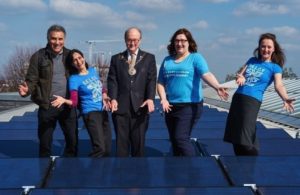 What is it?
Feed-in tariffs (FiT) and renewable heat incentives are two incentives provided by government that guarantee a certain payment per kWh of electricity or heat produced from an installed renewable system. This can either be a renewable system in your home or a much larger community energy scheme. When used in a community the payments can help towards the management and maintenance of the renewable system, with any profits put towards other community initiatives such as energy efficiency schemes, transport or youth facilities.
However in January 2016, the tariff payment p/kwh for standard and large solar photovoltaic dropped by more than 60%. Community groups running local energy schemes are very concerned that this drop in rates may halt further investment in local energy.
Who's doing it?
South east London: Installing solar panels on schools
South East London Community Energy (SELCE) released community shares equating to £120,000 to try and raise enough cash to install solar panels on three schools in South East London. The money was raised quickly with the promise of a 4% interest rate for investors and full financial repayment in 20 years time.
The project itself is running very well and bringing benefits for all those involved: their community 'partners' receive solar panels on their roofs, installed and maintained free of charge; their investors receive a good return on their investment, and SELCE receives an income to support its work to reduce fuel poverty in the capital.
SELCE's solar panel project has three crucial income streams: the feed-in tariff (FiT), sales of discounted electricity to the schools involved, and sales to the grid. SELCE were fortunate to have their scheme up and running before the Government announced a drop in the rates for FiT payments.
Share this post: