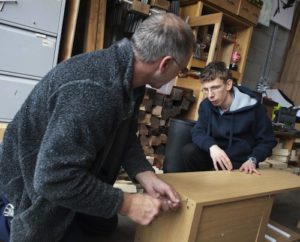 What is it?
The social value act (2012) required local authorities to embed social value criteria in commissioning. Including social value criteria is something that local authorities have always been able to do, but by creating a requirement the social value act encourages councils to think more creatively about how their resources and the services they commission can be leveraged to advance social value. This provides a good 'hook' for local innovators seeking to improve local economies to develop and justify projects.
Who's doing it?
Doncaster: Creating social value through the city's waste service
When commissioning waste collection services in 2009, Doncaster council made the need to deliver social value explicit in the contract, including the boosting of re-use and a number of social targets covering engagement and getting people back into paid employment. The service was delivered by SITA UK – now SUEZ recycling and recovery – in collaboration with a subcontractor, a social enterprise – Doncaster Refurnish – who would deliver the bulky waste and re-use service for the area.
Refurnish has used this as an opportunity to restore and sell furniture to low income families, assisting 20,000 low income households by 2014. It also offers employment and training opportunities to disadvantaged groups, including rehabilitation and integration for prisoners due to be released from Hatfield Prison – in 2014 it provided 11 ex-offender work placements and 79 training work placements for long-term unemployed people.
Wakefield: Helping a small social enterprise tender as its school milk provider
Wakefield Council contracts Fresh Pastures, a Community Interest Company, to supply milk to local schools. Whole life cost and sustainability were identified as selection criteria at the pre-procurement stage, and training was given to third sector organisations by the Social Enterprise Support Centre (SESC) to enhance their tendering abilities. Fresh Pastures was identified as creating social value through its employment policy, educational activity and use of recyclable cartons, and by minimising food miles through local sourcing of milk. Fresh Pastures now works with Jobcentre Plus, Wakefield Disability Action, Mental Health Matters and other charities to provide employment opportunities to disadvantaged groups. Of those employed by Fresh Pastures, 25% are disabled and the remainder recruited from long-term unemployed.
Additionally, the milk cartons used by Fresh Pastures are recycled to make insulation blocks for the building industry. For every £1 of contract delivered by Fresh Pastures, 59p of social value is generated. Fresh Pastures was a small company, new to the tendering process, which put it at a disadvantage. However, it was able to overcome this disadvantage by attending Wakefield Council supplier engagement workshops and council-run tender clarification sessions, which served to increase the organisation's knowledge of the procurement process and enable them to produce a high quality bid which met local authority requirements.
Share this post: