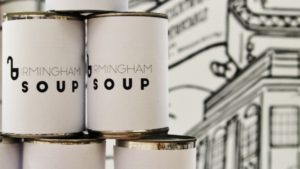 What is it?
SOUP is a micro-granting event that helps communities raise money for a project in their local area; the idea came from the Detroit SOUP initiative. A SOUP event charges an entry fee to all attendees. At a typical event, four local people are invited to pitch their ideas to improve their local community. They have four minutes to talk and the audience can ask four questions. Following the four pitches, the community sits together over soup and discuss what they've heard before they vote for their favourite idea. The winner gets to take home all the money raised on the door to go and bring their idea to life.
Who's doing it?
Birmingham: Local investment for a new social business
Birmingham Soup took their inspiration from the Detroit example and began to host their own events. Their first Soup saw 85 people each paying £5 on the door to come and listen to a few ideas about how their community could be improved.
The winner of the first event was Elliott Lord; his pitch was for money to make more of his unique cardboard beds for homeless people in order to try and help them get a better night's sleep.
In addition, Elliott met people in the audience that worked in homelessness services or with the homeless on a daily basis. These people became a new network, offering their support and guidance to Elliott, which motivated him to look into how this project could happen on a larger scale to ensure that every homeless person who wants one of his beds can have one.
Share this post: