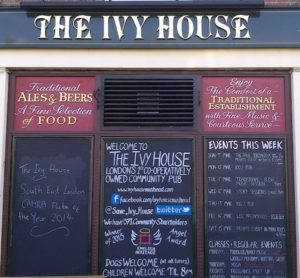 What is it?
The 'community right to bid' is part of the localism act 2011. Under this piece of legislation communities have the right to nominate a community asset (any local building or land important to them) as 'an asset of community value' and if it ever comes up for sale they are given six months to raise the funds to buy it. This allows communities the opportunity to protect locally important community assets such as libraries, community centres and even parks and football stadiums.
Who's doing it?
Nunhead: A pub run by the local community
The Ivy House in Nunhead, London, was the first pub to be listed as an asset of community value when this power was introduced. A group of local residents were dismayed to find that their local pub had been put up for sale and sold at auction to a businessman who almost immediately put it back on the market for £750,000 with plans to turn the building into flats. The residents managed to register the building as an asset of community value before any sale was able to go ahead giving them six months to raise the money needed to buy the pub.
The small group of residents behind this intervention were able to raise enough cash through a loan from the Architectural Heritage Fund and other loans and donations from a variety of other sources. With the support of the Plunkett Foundation they were able to open up a community share issue scheme, giving local people the opportunity to have a financial stake in their local pub whilst also providing working capital. The Ivy House is London's first pub to be owned and run by a local co-operative.
Share this post: