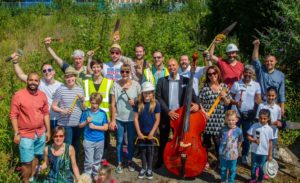 What is it?
In many parts of the UK, communities are coming together to solve the housing crisis and launch their own community-led housing schemes. There are a number of different models but one of the key ways for schemes to get off the ground is through the creation of community land trusts (CLTs), where the land is held in perpetuity by the community.
There are now over 225 community land trusts in England and Wales, and the sector has grown six-fold in the last six years. In many parts of the country local councils are playing an active role in helping communities get housing schemes off the ground. There is also funding and support available through the £60m annual community housing fund, launched by the government in 2016, for places affected by second home ownership. In the first year the money will be distributed to local authorities, with the south-west, south-east and east of England getting the largest chunks of funding, and support from the Building and Social Housing Foundation and the CLT Network.
Who's doing it?
East Cambridgeshire council: Establishing a specific planning policy to encourage community-led housing
East Cambridgeshire Council supports community-led development and has a special planning policy (Growth 5) that encourages it.
The planning policy lets communities bring forward sites in areas close to village or town boundaries which might be outside the normal development envelope. The community decides itself what is appropriate. These sites could include affordable housing, workspaces, community buildings and other amenities. And the project could also include some 'market housing' for sale to help pay for the community development if it would otherwise not go ahead.
The council also provides support to anyone thinking of setting up a community land trust with a grant to get started, a loan to provide pre-development finance and a CLT adviser to give advice, guidance and specialist help.
It operates an umbrella organisation – CLT East – which provides expert advice and guidance to communities thinking of setting up their own community land trust. The organisation can help CLTs all the way from an initial idea or vision to managing affordable homes and community amenities in perpetuity. It works closely with local authorities, awarding bodies such as the Homes and Communities Agency and specialist funders, architects, developers, landowners and specialist advisers such as solicitors and accountants to help set-up a CLT, and can facilitate development through its sister company Palace Green Homes.
CLT East has assisted in the creation of eight CLTs in East Cambs so far. Some of their projects include the Manor Farm development in Stretham, which will deliver 75 homes to the community, 23 of which will be owned by Stretham & Wilburton CLT and affordable in perpetuity, and the proposed Kennett Garden Village development.
More info here.
Lewisham: Supporting two community land trusts in the borough
Mayor of Lewisham Steve Bullock committed to delivering a community land trust in the borough in 2014 following a campaign by Lewisham Citizens, part of Citizens UK. London CLT and Lewisham Citizens obtained a statement of intent, outlining in writing that 'The council is committed to working with London CLT and Lewisham Citizens to deliver a community land trust in Lewisham' and that 'specific potential sites are being discussed'.
On 23 March 2016, the mayor agreed that a garage site on the Brasted Close estate, Sydenham, should be declared surplus to the council's requirements and that officers would work with the London CLT and Lewisham Citizens for a period of twelve months to develop a fully affordable housing scheme for the site. An agreement to sell the land at Brasted Close to the London CLT was reached after negotiations to agree a price. These negotiations reflected the social benefits that the scheme provided. On Brasted Close, the London CLT are planning on providing 14 new homes that will be for affordable sale to people with a strong local connection with sales values being set at the local median income in perpetuity. The setting of sales value at the local median income in perpetuity will be secured through a covenant.
Lewisham is also working with the Rural Urban Synthesis Society (Russ) at Church Grove, who are looking to submit a planning application for 33 affordable homes of different types, to be self-built by the residents.
At Church Grove, Russ will be working with the residents group to self-build 33 homes, for shared ownership, shared equity, affordable rent and social rent. The CLT will retain 20% ownership of all properties to ensure they are kept affordable in perpetuity.
Both developments should start construction in early 2018.
Share this post: