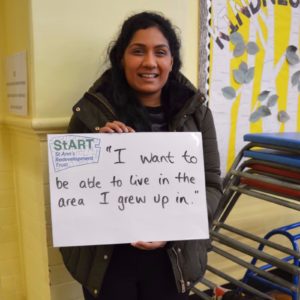 What is it?
Crowdfunding is an alternative way to raise cash for a project. Instead of having one or two main funders that put in large sums of money, you can seek the support of potentially hundreds or thousands of funders through crowd-funding platforms, allowing each person to contribute much smaller sums of money to help you reach your funding goal.
Who's doing it?
St Ann's in Haringey: Crowd-raising funds to compete with developers to build an affordable housing scheme
Spacehive is a crowd-funding platform dedicated to helping projects that aim to improve the chances of places to get funding. Spacehive verify project plans, source volunteers and provide access to grant-makers in their network including councils, foundations and other big companies and organisations.
Projects successfully funded through Spacehive include St Ann's redevelopment community bid. This project was put forward by community land trust 'St Ann's Redevelopment Trust' (StART) to help them fund architect drawings that would allow them to submit a community bid to compete with a major developer's plans for part of the St Ann's hospital site in Haringey. StART was not happy with just 14% of proposed homes designated as affordable through this developer's plans. At a time of severe housing need StART want their plans to take into account the housing and health needs of local people.
StART used their crowd funding to create their masterplan – 'Our vision takes shape' – which provides an alternative for the site with a far higher level of truly affordable, secure, good quality housing, alongside the conservation and enhancement of public green space. The site is due to be sold in the autumn of 2017, at which point StART hopes to be in a position to launch a successful bid.
Share this post: