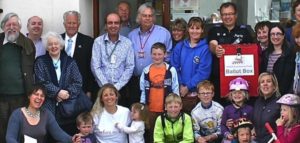 What is it?
What if a whole town came together to attempt to become self-sufficient in energy? It's not impossible and smaller, rural places are doing just that, using local land to house community-owned solar panels and wind turbines.
Who's doing it?
Wadebridge: Re-building its local economy through energy
Wadebridge, a small town in Cornwall, is going 'back to the future', localising its energy supply and, in doing so, re-building its local economy. Stand in Coronation Park, high above the north Cornish town of Wadebridge, and you can look down on the future of localised energy supply. Solar panels glint from the roofs of homes and schools, wind turbines whirr and solar farms are just visible in the distance. The town now gets 3% of its energy supply from renewables, and plans to have reached 100% by 2020.
The Wadebridge Renewable Energy Network – Wren – has focused on making local energy the norm. Indeed, 100 years ago the town was almost self-sufficient in energy and had its own company – the Wadebridge Electricity Supply Company – which used diesel to power generators and was a major source of local jobs. The centralisation and outsourcing of energy that has happened in the last 50 years is an aberration, says Wren chair Stephen Frankel. Wren's focus is on going 'back to the future', on making local energy the norm again.
So, Wren has a shop on the high street, where locals can pop in and get advice on making their homes warmer or installing solar panels. The organisation plays the role of trusted intermediary, helping citizens understand energy efficiency and renewable technologies and linking them up with trusted installers. The local launderette has become perhaps the first solar-powered launderette in Britain, local homes and businesses have installed solar panels and biomass systems, and for those on low incomes, Wren uses its Community Fund – which comes from the revenue it receives from recommending people to developers – to pay the upfront costs.
Share this post: